 Reviews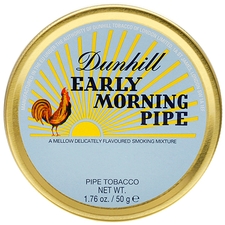 Dunhill - Early Morning Pipe 50g
superb blend
This mild English tobacco is rich & smooth, the best of it's class. Doesn't require special drying. It is superior to the earlier Murray version. If you like Squadron Leader, Skiff, Rattray's Red Rapparee or Professional blends, you'll love Early Morning, which can be an all day/night smoke. Begins quite mild & gradually builds in taste. Especially recommended in older English pipes, Barling, Charatan, Sasieni etc. The Latakia present is subdued. This blend is milder than Dunhill's Standard Mixture or 965.
Dunhill - Early Morning Pipe
superb blend
This is a mild strength but rich English blend that is the best of it's kind in that category. "Early Morning" is a minomer--it is good all day and night. It has less Latakia than Dunhill's London. This blend has better ingredients and is smoother than it's earlier Murray version. Smokers of Skiff, Squadron Leader,Rattray's Professional or Red Rapparee will find Early Morning more refined and smoother. Doesn't need to be dried out. Finding this tobacco was a revelation and made other tobaccos superfluous. It supports a huge pipe collection. Especially recommend in English pipes.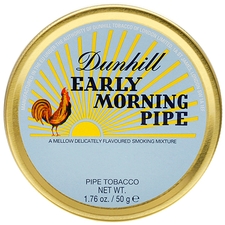 Dunhill - Early Morning Pipe 50g
Dunhill early morning pipe
This is my favorite tobacco. It is smooth, flavorful but not too strong. During the several years when it was un-available, I tried several alternatives, like King Charles, Mcclelland's professional mixture,Arcadia and others. These were good tobaccos in the neighboorhood of Early Morning but, to my taste, not as satisfying. The name is a misnomer--it's good 24/7.
Favorite Products
Currently there are no favorite products