 Reviews
McClelland - M58 - Apricot Brandy
Apricot Brandy
Not the most typical tobacco for me but I picked some up after smelling while visiting the store recently. I thoroughly enjoyed the nose; it is aptly named. It is, however, a bit sweet for me, and more of a "sugary" sweet than I like. That said, given the right mood I enjoy it well, though it's not well-paired with much in the way of fine liquor.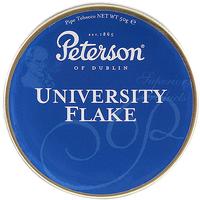 Peterson - University Flake 50g
Very good tin
I do not smoke terribly often, and smoke tinned tobacco less often, but this is my go-to tin when I do. I very much enjoy it; a sweet plum taste as mentioned by others. It smokes easily and cool. It is great to fill the rather deep bowl on my Skovgaard horn and pair with a glass of bourbon or Islay scotch.
Favorite Products
Currently there are no favorite products