 Reviews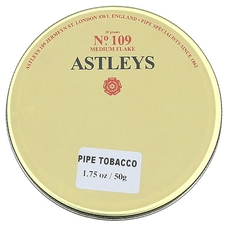 Astley's - No. 109 Medium Flake 50g
Improved, Still Not The Old 109
I've smoked through a tin of the new round tin version of Astley's 109. It no longer has the icky sweet topping that the square tin edition did, and that's definitely an improvement. But on a direct comparison with a pipeful of the old round tin that I've been hoarding, the new blend loses out. The old blend had brighter overtones and more highs. The new version is mostly low notes, and is not as interesting. I have bought several more tins of the new stuff though, so don't get the wrong idea. It's a perfectly good smoke, even if it isn't the killer blend it used to be.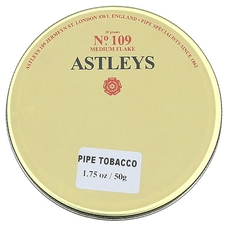 Astley's - No. 109 Medium Flake 50g
Not the same
I recently opened my first round tin and loved it. Opened a square tin a few days ago and indeed the blend's aroma and flavor has changed. The creamy and cocoa notes are replaced by something more like Cut Virginia Plug, sort of generalized sweetness. It's nice, but NOT the blend I was so enjoying! Hope K&K find a way to go back to the old formula! Update 10-21-16 I've given this reformulation a number of attempts over the past 3-4 weeks. I guess I was hoping the sweet topping would evaporate or something, but no such luck. My unavoidable conclusion is that whereas the old 109 was easily my favorite Virginia, I don't like this new version and will likely give up on it. If I'd known this was coming I'd have bought all the round tins I could get hold of. So sad--if it wasn't merely pipe tobacco, I'd call it tragic . . .
Favorite Products