WYRMIS
About Me:
Reference meets Web librarian, married man, cat owner, tea drinker, rabid reader, book collector, horror geek with a love for classics and weird lit
Badges







Reviews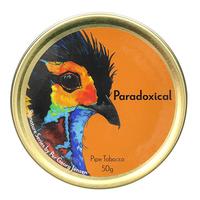 Sutliff - Paradoxical 50g
Good and Earthy but Maybe Needs a Little Something
Opening one tin to smoke now (the rest will sit cellared for a bit), the front flavor of this blend [fresh] is very earthy with a hefty dollop of pine. A tad bit overpowering on those latter, sharper notes but still tasty. Over time, it develops a bit of walnut before settling down into a warmer, gentler smoke [all the while holding that earthy flavor]. I am mostly pleased with this combination, but I feel that it is one that needs to sit a few months at least to reach its full potential. All said, as much as I enjoyed it, it feels like it needs just a tad bit more to finish it out (one can picture a hint of cigar leaf or latakia). I'll see if age is enough to achieve that.
Regius - Sun Grown Grandido
Good Cigar with a Complex Taste Profile
I do not think I have ever had a cigar that made me think of coffee quite so much before. Nice, pleasantly bitter coffee with hints of citrus in the air. It reminded me of growing up nearer the coast and evenings back inland a bit. Especially after the first quarter or so, each puff seemed to have different ways for the flavors to play off of each other: high and low nights sitting side by side backed by a good amount of sharp.
Tsuge - "Gunjin" God of Samurai 50g
Occasionally strikes my fancy, but least favorite of the "Four Gods"
I have now smoked three bowls of this and I still don't quite know if I like it, per se, though I definitely do not hate it. There are moments in every bowl where I get hints of brilliance, where I get a ray of sunshine that says, "Yes, this is what they were going for...," but the majority of the bowl is sort of uninspired, fair to middin', tasty in itself, but not memorable. Many of the reviews I've seen on the web, both written and video, have talked about it as a VaPer blend with Cavendish highlights. The tin does not mention Perique, but on retrohale I do get a tinge of it, or something like it, so I can at least see where they are coming from. Speaking of retrohale, when I exhale this through the nose, I get almost a different taste than when exhaled through the mouth, and I kind of assume the retrohale flavor is what they were going for, more complex, less sweet, more natural... As it is, it's mouth and room-note are sweet enough that it triggers low-level aromatic to me. Something on top of the tobacco taste like a watered-down coffee mixed with...agave nectar and a mild citrus twist? There is tobacco in the flavor, no doubt, it just feels like it sharing a carriage with a guest. And, though it is not the front-and-center of the blend, it still stands out as more memorable than the central flavor. I like it enough to finish the tin, easily, but not so much that I would plan on stocking up, especially when the other three gods are closer to my usual style of smoke. This one makes for a diversion to some of my harsher blends, though.
Favorite Products