 Reviews
Peter Stokkebye - PS17 English Luxury
Back to Old Faithful
I have always loved this blend, but thought I would try some different Englishes for a while. After several different blends I have finally come back to Stokkebye, English Luxury. The Latakia is definitely present, but not overpowering. The sweetness from the Virginia comes through. Just a great overall English.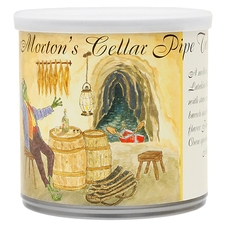 McClelland - Craftsbury: Frog Morton's Cellar 100g
Delightful Smoke
After reading the reviews, and as a latakia lover, I was very excited for this delivery and I was definitely not disappointed. The tin aroma is beautiful. Smoky...floral...a hint of whiskey. Packing was a little challenging for me as I loaded my Sebastien Beo billiard, but that could be that it was so early in the morning. The initial charring light was wonderful! Nice latakia flavor. The second char brought a deeper latakia flavor. The true light delivered a little of the whiskey flavor and as i exhaled through my nose the floral notes came out. The bowl progressed beautifully. The flavors became more intense but my tongue was never bit. Thoroughly enjoyable smoke...especially with smokingpipes Kenyan coffee!
Favorite Products