PIPEWAVE
About Me:
Retired Chef, Shooting Sports, Cyclist, and Avid Pipe Smoker.
Badges








Reviews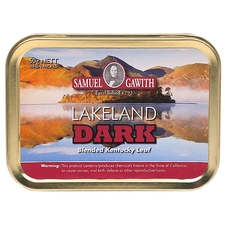 Samuel Gawith - Lakeland Dark 50g
Decidingly Great!
I've been smoking Lakeland Dark in a number of different pipes in a variety of shapes. As to that, I find it best in straight dublins. Regardless of what's been said about its strength, I'm putting it in the medium to strong catagory. I've been smoking a lot of Warhorse Bar lately. Perhaps it's due to that, don't find it as strong as some others. Interesting to me is that even if it is supposed to lack the Lakeland tonquin flavoring that 1792 Flake has, I do detect it slightly. Especially in the first third of a bowl. After that , it seems to dissipate. The molasses character I find in the dark fired Kentucky comes into play. Lakeland Dark becomes something I truly enjoy until I reach the bottom. There doesn't seem to be any drying time necessary as it lights easy easily. The rest is pure enjoyment. I ran sort of a stepladder smoking today. I started off with SG Golden Glow, moved into Elizabethan Mixture, then Haunted Bookshop. Finally this wonderful Lakeland Dark. I would consider this to be the acme of today's pipesmoking pleasures. Just right for sitting outside and looking forward to my next bowl of Lakeland Dark. Decidingly great! I will be ordering more for sure!
Favorite Products
Currently there are no favorite products