 Reviews
Cornell & Diehl - Briar Fox 16oz
I can see it becoming a staple...
I'm venturing into burleys and VA/Burs after spending a long time being a VaPer and english fan. This particular blend, in my first bowl, was not impressive. I didn't get much flavor, and it had an acrid taste that smelled like cigarettes and tasted ashy. In hindsight, I didn't prep the tobacco well, and I scorched it. If you scorch it, you might as well be smoking a cigarette. Now, after having smoked about a half-dozen more bowls, I "get it". This one is good. It's real good. It's not some uncharted voyage of flavor experience that will open new doors to you. It's not exotic. It's not legendary or novel. It's just great. Very nice subtle fruit from the VA, with some earthy hay notes. These, if you're not burning too hot, are great on the retrohale. The nuttiness from the Burley is a nice flavor. Bit of a chocolatiness(maybe more of a cacao note). Not much more to say about that right now, I'm still exploring how it hits my palette. To me, this blend is just begging to be a go-to. Dependable. Flavorful, but not TOO flavorful. Enough nicotine to be satisfying, but not so much as to require a four course meal before lighting up. The more I smoke it, the more I want to smoke it... It feels like the blend to just have on hand. If I'm camping, I want some. If I'm doing chores outside, it makes sense. If I'm wanting to hang out on the patio, it fits there, too. In short: it's a great addition to whatever you're doing, and it's not so stand-out that it demands your attention. But if you do give this blend your attention, you will find more and more to come back to. Additionally, if you're the type of guy who sometimes likes to mix blends, this one goes well with a good black cavendish to add some strength to your aromatics.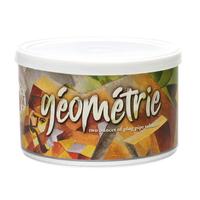 G. L. Pease - Géométrie 2oz
Another Zeitgest masterpiece
This is a masterful blend. GL Pease already has the pleasure of taking up a lot of my cellar space with Bankside, which is an all time favorite... And now Zeitgest might be joining the ranks. Right away upon lighting a delightful floral note touched my palette, and that feature danced in and out of this blend throughout the bowl. Very delightful and elegant, not perfume-like by any means. In fact, this flavor is one I'm chasing in this blend. Just amazing. Besides that, there's a certain zest from the virginias that I can only compare to a sun dried tomato (without an overly vegetal taste). Otherwise, the VA's are not that forward. In fact, I mostly noticed that classic figgy taste from the VA's in the aftertaste, rather than in the smoke itself. The described malty notes are a good characteristic, and there's almost a sort of rustic bread taste (typing this doesn't sound appetizing, but I promise, I mean it in the best of ways). Overall, this smoke can be characterized by having a consistent sweetness that is really enjoyable. It's more of a molasses flavor, if I can compare it to anything. Not sugary or overly sweet. Not artificial by any means. Really, really enjoyable. All the other characteristics intermingle with this at varying intervals, but that sweetness was easier to find in the fray than the rest. I will say, there's a desire to really chug this bowl of tobacco since it's so good. But it rewards those who sip it. If you get burning too hot, a sort of acrid, grassy note can come out. Easy fix if you change your pace. But this is definitely a sipper. Like a lot of Pease's blends I've tried, this is not one I'm smoking while working in the yard, fishing, or hiking. This is a thinking man's smoke. Put the phone down. Get rid of the distraction. Light it up, and sit with it. Trust me, it will reward you for being attentive like so. This blend, besides those notes is still a bit elusive to me. But I'm keen on revisiting it many times, and discovering what else it has to offer.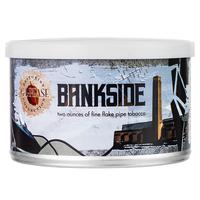 G. L. Pease - Bankside 2oz
Instant Classic
This is an instant favorite for me. I picked up a few tins at a local B&M just to give it a try. I love Va/Pers and I have really been into english blends lately (only about 2 years into my pipe journey). For me, this is the best of both worlds. The VA's are bright and tangy, the perique is peppery and hits just like you want it to. The Latakia is juuuust enough to give it that smokiness I love in an english, but not so much that it is the central theme of this blend. Honestly, this is such a well crafted blend. I can smoke it anytime of day, and in any mood. It doesn't matter if I'm yearning for an english or a VaPer, this hits the spot. I keep finding myself reaching for this as opposed to the other regular players in my rotation, so much so that I'm having to restrict myself from smoking it so I don't blow through my tins before I can stock up on some more. For me, this is going to me by default tobacco blend, probably for a long time.
Favorite Products
Currently there are no favorite products