 Reviews
Lighters - Kiribi Kabuto Mizo Silver
A must have!
The Kiribi Kabuto Mizo Silver lighter shares a special spot in my pipe cabinet right next to my Peterson Silver Stripe Pipe Lighter. Being that the Kiribi Kabuto is a bit more efficient with it's winged cap toggle, making it very easy to flip and strike, this gem is the one that I reach for more often than not. The cap flips open by simply placing a small amount of pressure on the winged toggle. A quick flip to the cap and a strike to the flint wheel and BOOM! You got fire! I highly recommend this lighter to anyone who's looking the Old Boy look with ease of use.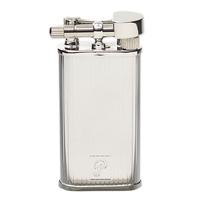 Lighters - Peterson Silver Stripe Pipe Lighter
Exquisite!
The Peterson Silver Stripe "Old Boy" style lighter is worth the cost. It is crafted beautifully with it's - not too deep - pin stripes grooves and it's sleek silver appearance. The lighter works every single time you strike the flint wheel; not to fail to mention it's butane capacity. Whether a pipe smoker or simple collector of fine lighters, the Peterson Silver Stripe pipe lighter is a must-have. I am completely satisfied with my purchase and might even consider purchasing another, just because.
Favorite Products