 Reviews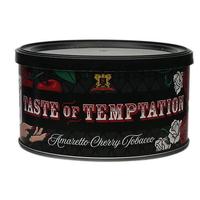 Missouri Meerschaum - Taste of Temptation 1.5oz
More than Tempting
This is a very solid smoking aromatic. The flavors are more subtle than I expected, which was great because you don't end up with an artificial taste in your mouth. The cherry seemed very natural -even to the point of pleasantly tart, blending very well with the black cavendish. The amaretto is definitely there as well, and blends very well with the Virginias. All in all what got me most about this one was the balance of flavors. It's distinct, almost subtle, and noteworthy. In no way overpowering. Well worth the limited release and worth any fan of aromatics trying.
Sutliff - Maple Street 1.5oz
Smells Great, Tastes Good
I think this is a pretty fantastic aromatic. In my opinion getting the most out of the flavor is keeping the smoke cool and not going at it too fast -I've had the best results with a churchwarden. I wouldn't say the flavor is strong, but it's definitely there and when coupled with the room note, this is a really pleasant aromatic. If it starts to burn too hot you will get the very noticeable bite and harsher burley taste I've seen mentioned in some of the reviews. All in all, it's not the best aromatic I've ever had, but it's definitely a good one.
Favorite Products
Currently there are no favorite products