 Reviews
Cornell & Diehl - Haunted Bookshop 2oz
Not quite sure yet
Burns hotter than I thought it would. It is smooth but perique is much stronger than it is advertised. Might take a few more bowls to make a final decision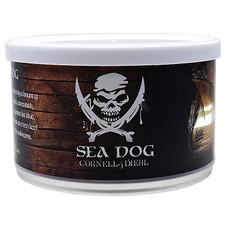 Cornell & Diehl - Sea Dog 2oz
Ribs or brisket?
This has a spicy BBQ aroma to it and the perique is strong but pleasant. Great room presence but not overwhelming. I'd buy again.
Cornell & Diehl - Cross-Eyed Cricket 2oz
Best tobacco in my short pipe smoking life
I've only been pipe smoking for a month now. Got a tin of this in my first order ever. Great choice! Aroma of rum hits you right off the bat when you open it. It's a moist tobacco that snaps and pops as you smoke it. Great aroma of rum as it burns slowly. It's a cooler smoke than the otc tobaccos I've been stuck with. It tastes just as it smells as well. Great after dinner smoke. I'll get more of this. Very smooth as well.
Favorite Products