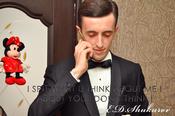 EMIN SHUKUROV
About Me:
Lawyer,painter,pipe smoker!)
Reviews
Erinmore - Erinmore Mixture 50g
Try an aged tin!So smooth and delightfull!
Nowadays i've got the 50g tin and saw that it's from '12.In the beginning smokes little hot,but,a few minutes later you just have a good,very tasty,cool smoke.When u open the tin,it smells like tea with honey in it,some fruits(not pine apple) and spices in it.Think it needs aging before smoke and really recommend aging.If you prefer tasty,mellow and smooth smoke,it's it!
Favorite Products