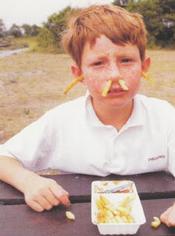 WRONGWAYRANDALL
Badges





Reviews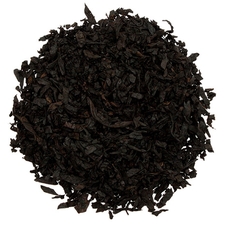 Sutliff - B21 Black Spice
My #1 all-cavendish choice
First off, I like all-cavendish tobaccos, so please keep that in mind when you read my comments. This is my #1 favorite all-cavendish tobacco - with Black Vanilla and Captain Black dark coming in second and third. This smokes quite well overall, although it can be a bit moist right out of the bag. I tend to allow it to dry a bit before enjoying and that helps with both flavor and relaxation. It dries faster than Captain Black, and smokes well even when quite dry. Also, it will stay lit on the charring light for me almost every time, and not require a lot of work to keep it lit. I have to really push this to get it to bite, unless it is too moist, but even then it takes some effort. The flavor is very nice, not at all artificial like Captain Black can sometimes be, and is richer and more complex that many other all-black cavendish tobaccos. The room note is amazing too, you're highly unlikely to hear a complain out of even the most hard-core anti-smoker with this. This is currently my everyday tobacco choice, and I've found that each order gets larger and larger in weight.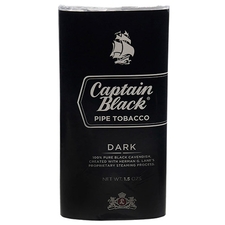 Captain Black - Dark 1.5oz
Sweet, mild smoke
First off, I like all-cavendish blends, so keep that in mind when you read my comments. This is fairly moist right out of the pouch and will gurgle easily if you don't allow it to dry a bit before smoking. Lighting, for me, never requires a char light - this will stay lit well, and while it is rare for me to get an entire bowl without a relight, this does not require excessive effort in that regard unless you try to power through it while it is moist. It takes a lot of effort to get this to bite, and under normal circumstances I never have any issues with that. The flavor is nice, mild, and fairly sweet, but no specific flavor comes to mind. I find that this is best rotated through with other options as it does leave me with a bit of an aftertaste if I have three or more bowls in a row. Your pipe will smell quite nice after smoking this, but as far as I can tell there is no appreciable ghosting - if I smoke another blend after this there is no hint of it in that bowl, or anytime after. I've smoked this for a week straight an not had any long-term scent or flavor carry-over. While this is not my favorite all-cavendish tobacco, I do like it fairly well and plan to keep it in my modest selection of tobaccos.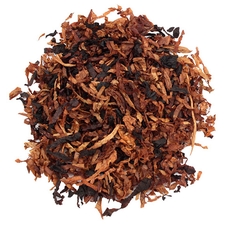 Peter Stokkebye - Cinnamon
Mild, flavorful aromatic
As another reviewer stated, I like to alternate between English and aromatic, and this so far is my favorite aro. I had no bite at all, which is nice in an aro, decent flavor and good smoking characteristics. I've tried around 8 to 10 arose and this is the first that I've thought I'd like to re-order.
Favorite Products