 Reviews
Cornell & Diehl - Black Duck 2oz
Cavendish-rich English blend
After smoking straight English blends for a few years, I've really come to enjoy the addition of a little Cavendish. It's like adding water to whiskey – it dilutes it, sure, but the end result is that you can imbibe with more abandon without overloading your palate. Black Duck is my new favorite in this genre. It's flavorful, but not too strong. It stays lit easily and produces lots of rich cool smoke. If you like this type of tobacco and want something slightly stronger, try English Hoopla or Pride of Loch Lomond. But for now I'm sticking with the Duck!
Sutliff - Eastfarthing 1.5oz
Faint whiffs of English soaked in propylene glycol
Nice note out of the tin, I thought (as another reviewer said) this might be close to Frog Morton's Cellar. NOPE. My first impression was that the tobacco had a lot of PG. I let it dry for an hour to no seeming effect. In the pipe, the tobacco produces a dense smoke, but with very little taste. The vanilla from the tin note is gone, and you can barely taste the latakia. Later in the bowl, I tasted mostly ash. If you're thinking about this tobacco, I'd recommend English Hoopla or Black Duck instead. Maybe even Snug Harbor.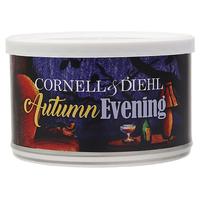 Cornell & Diehl - Autumn Evening 2oz
0 star taste, 4 star room note, 5 star pipe ghosting
If the people around you want to smell Werther's Original incense, then this is a great tobacco. If you're not into retrohaling and yet want to taste more than a burning paper bag, I'd steer clear. First off, the people that say this tobacco is maple flavored were raised on Mrs. Butterworth's. There is as much, if not more, butterscotch flavor here than maple. It tastes so much like DeKuyper Buttershots Schnapps that I'd be surprised if that wasn't used for the topping. Second, I was surprised how harsh this was on the tongue, considering it was a popular aromatic. I found I had to smoke it very softly to avoid a harsh taste on the tongue. I got practically no butterscotch taste in my mouth, that was all in the room note, so if I was outside, I needed to retrohale to taste anything. In fact, the best thing I can say about this tobacco is that it made me think deeply about the difference between the palates of the nose and the mouth, and how I appreciate a combination of the two from pipe smoking, wine, etc. Last, this tobacco ghosts a pipe like nothing else I've ever smoked. I recommend smoking it in a cob until you're certain you like it. If you are thinking of buying this tobacco, I'd recommend you try Virginia Cream or King Cake instead.
Favorite Products
Currently there are no favorite products