 Reviews
Lane Limited - 125th Anniversary
Great for what it is
I bought a bulk bag of this while smokingpipes was running a 20% off sale, having never tried the blend before. My theory was that it's Virginia based, so at worst it would store well for a long time and hopefully age well. I was a bit nervous given that Lane's primary products are goopy aromatics which don't dry out even if you leave them in a ziplock for a year - this is not at all similar. I don't think there's any PG in this blend - it came at a perfect smoking moisture, stays lit well, and all in all is a good quality tobacco. Fresh, it has the sweet, grassy, floral virginias and just the slightest bit of perique spice. There's a tiny bit of nippiness, but certainly nothing unmanageable. The leaf is good quality, and the tin note is a subtle sweet "springtime" scent. The nicotine is mild to moderate - present but not overpowering. All in all, I think Lane hit what I suspect they were going for - a solid but unremarkable VaPer for B&M retailers to rebrand as their own. Inoffensive, accessable, and a great price to quality ratio. Perfect for guys like me who are working on stocking up enough of a cellar that we will always have something enjoyable to smoke. By analogy, it's not a grand cru, but instead a Cabernet that is affordable enough to stock a cellar with to ensure you'll always have a nice aged bottle to go with dinner. I look forwards to seeing it evolve with age.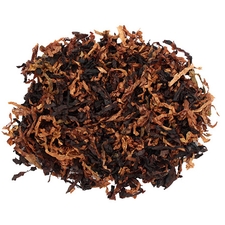 Peter Stokkebye - PS306 English Oriental Supreme
Better with time
EOS is a great, accessible English blend. It's mild enough for a beginner, but still retains complexity and depth. I bought a pound about a year ago and jarred it up, more to have something consistent on hand than expecting the cellaring process to improve it. After all, "everyone knows" Latiakas don't age well, and cavendish and burleys don't change much over time. However, I just popped open one of those jars, and I was amazed. It's still very much the same blend with a very similar flavor profile, but it has melded and blended together to smoke far above its price class. I wouldn't have described it as "rough around the edges" to begin with, until I tried it with a bit of polish. Try some out, and if you like it fresh, grab a bunch and forget about it for a while. You'll be glad you did.
Favorite Products
Currently there are no favorite products