 David L.
About Me:
Retired Navy MasterChief.
Reviews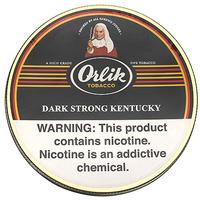 Orlik - Dark Strong Kentucky 50g
Orlik-Kentucky
Orlik's Dark Strong Kentucky is quickly becoming my choice. As Christopher and others have posted, this blend is not too strong. What it is, is satisfying. I have and am generally a smoker of non-aromatic English blends. Those favored tobaccos must now share company with this fire cured Kentucky blend. From time to time, I also like to add a touch of Perique to take it an extra mile. Cheers!
Favorite Products
Currently there are no favorite products