 Reviews
Solani - X - Sweet Mystery 50g
Very Good
A good solid choice, especially for any lover of aromatics. Wonderful sweet/sour notes, would buy again.
Erinmore - Erinmore Flake 50g
Worth every penny.
This is truly a masterful blend, it burns perfectly, righ to the bottom, and has a delicious raspberry/red licorice flavor. There is also a certain satisfaction in rolling it out by hand, will certainly be buying more of this in the future.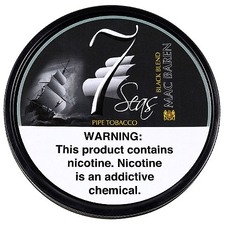 Mac Baren - 7 Seas Black 3.5oz
Not half bad.
There's no way I can say this was a bad tobacco, but it simply isn't the best I've had. It has an excellent room note, but the flavor is barely there, and getting it to burn properly requires some amount of patience.
Favorite Products
Currently there are no favorite products