 Cameron D.
Badges



Reviews
Tsuge - "Fujin" God of Wind 50g
Rich, Smooth, Smokey, and Roasty
Perhaps the most satisfying Latakia blend I've smoked so far, with a pleasing amount of body and flavor and, despite its lack of topping or casing, a room note that I swear smells of dark roasted coffee.

Pipe Tools & Supplies - Pipe Cover
May as Well Keep One Around
Just tried mine out for the first time in a MM Missouri Pride Straight, and it performed admirably. I measured the clasps that hold it in with my calipers; they're about .75 inches apart at the widest, and .65 apart when fully "squeezed", so it should easily fit any chambers between those widths, and the prongs could likely be bent to fit wider or thinner bowls. At $1.44, everyone may as well keep at least one around.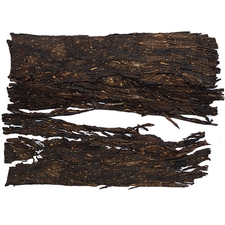 Gawith Hoggarth & Co. - Dark Flake Unscented
The Double Ligero of Pipe Tobaccos
This stuff has the kind of body and nicotine kick that are normally only exhibited by the most potent of cigars, and it's got a rich flavor to boot! Smoke slowly or suffer the consequences...
Favorite Products