 CALEB
Badges



Reviews
Cornell & Diehl - Speakeasy Navy Blend 2oz
4 years
Just opened my jar from June 2017 for IPSD. Age has definitely helped. Virginia's have calmed down a bit from what I remember. I'm tasting more of the buttery Orientals now with the Dark Fired a close second. Perique only comes out if I concentrate, but I am noticing a tickle as I near the end of the bowl. Didn't get much of a rum hit until midway when this blend shines. Another 4 years could really bring the orchestra together.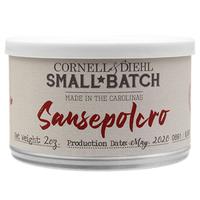 Cornell & Diehl - Sansepolcro 2oz
2020 update
This has been an all time favorite of mine. The tin I'm smoking is from the most recent release with a few months on it. I don't have an open tin from previous releases so I can't fully testify to its consistency, but the taste, mouth feel, and overall smoke is alike in memory. Smooth, bready, with a wonderful peppered stake that builds mid smoke down. I notice a stronger nic hit as the pepper kicks in. Probably coincidence. I used to think this came too dry until I noticed the very fine oil left on my fingers after packing. I would recommend smoking this as is with no dry time (or increased humidity), in a Virginia friendly pipe, and with moderately pressured packing. Too loose and it loses flavor; too tight and it seems a bit bitter.
G. L. Pease - Telegraph Hill 8oz
Excellent Blend
Didn't see any comments for this, and I feel this smoke deserves one. The wonderful finish is what sets this apart from others. It is a lighter tasting smoke than others that I have tried and, thus, very enjoyable for warm summer days. That is not to downplay its complexity and aroma. I would pair this with good porters, IPA's, or after a meal of fish or chicken.
Favorite Products