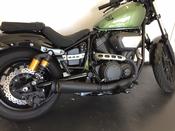 Yang L.
Badges



Reviews
Dunhill - Nightcap 50g
Smoky savoury creamy smoke
The texture of the smoke is simply perfect, smooth and creamy. Flavour side, amazing nutty, woody and earthy savoury notes make up the meaty full bodied flavour base; very subtle but just enough sweetness and spiciness to balance the whole experience and to make things interesting with every puff. Reminds me of beautiful smoked ham, bacon and wood fire aroma, with caramel-like sweetness hiding in the background, also a minimum touch of red pepper and black pepper. This is best enjoyed in a decent sized dry smoking pipe(I use my meerschaum). Loosen up the whole tin and put into a jar, dry the whole jar overnight for 1-2 nights(depending on environment humidity level), then keep it jarred for a week or so, you're all set. Happy smoking.
Dunhill - Standard Mixture 50g
Perfect banlance
there is not a "single" star ingredient in this blend: everything is perfectly balanced. The final result is that the blend as a whole shines through the magical combination of each ingredient's distinct character - sweet Virginia, smoky Latakia, floral & aromatic Turkish. Not my favourite straight out of the tin, but loosen it up, jar it for a couple of months, let the moisture out a little bit - smoke it in a decent sized pipe, you will get a perfectly creamy, cool and dry smoke that never bores you.
Favorite Products