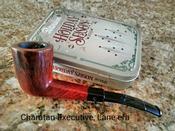 OLDEN GUYEN
About Me:
A Charatan and Upshall fan
Reviews
Lane Limited - Crown Achievement
Oldeman
When I first received this tobacco, the first few bowls exhibited a somewhat harsh but pleasantly complex taste. However, I had put some down in glass jars, tightly sealed, for future use. After a year, the tobacco has mellowed, and also sweetened significantly...a VERY pleasant surprise, even showing a bit more easily the complexity of this great blend. I Can't wait to see what the two- and three- year jars will be like!
Favorite Products
Currently there are no favorite products