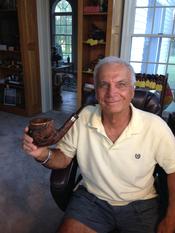 FOOTLOOSET
About Me:
Sicilian, Pilot, Sailor, Author, RVer, Farmer, Father, Grandfather.
Reviews
Sutliff - Barbados Plantation 1.5oz
GREAT TASTE AND SMELL
This is a mild and tasty tobacco. It goes well with a glass of Captain Morgains Spiced Rum. The room note is very pleasant and it does not bite. A great find and I highly recommend it.
Favorite Products
Currently there are no favorite products