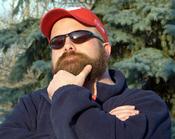 PTRTHGR8
Badges

Reviews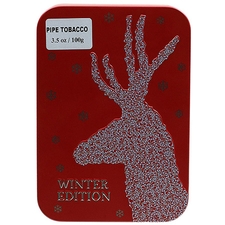 Kohlhase & Kopp - Winter Edition 2015 100g
Uninspiring, but not terrible
This is the first time I've tried anything from Kohlhase & Kopp. I'm a big fan of Christmas/holiday blends in general, so I was eager to try something new. The tin is rather nice (those who collect tins will probably like this one), though it probably won't suffice as a long term storage option since it's not a tightly sealed tin and the tobacco inside is stored in a cellophane baggie ala the Peterson Christmas blends. The tin note was a very strong licorice/cherry aroma with a slight hint of almond and even slighter hint of mint – the wifey said it reminded her of maraschino cherries. I guess that's the Christmas association since maraschino cherries are used in fruitcake maybe? It reminded me more of a cherry cough syrup than fruitcake, that's for sure – but not like some of the sickly sweet cherry flavored tobacco you can find. It was definitely an aroma I've not smelled in a pipe tobacco before, so I was eager to see how it smoked. The loose/ribbon cut tobacco was definitely on the moist side, so I let it air out for about 30 mins before prepping the pipe (I used a large IMP Meerschaum apple for this first smoke). The tobacco packed easily enough, but it took some lighting before it actually started smoking, even after the drying. It had trouble staying lit the entire pipe – it could be that the tobacco needed to air out for an even longer period of time… but 30 mins should have been plenty. When it was burning, the smoke was very pleasant and it didn't burn hot at all. I didn't notice any tongue bite while I was smoking – which I thought was a bit odd considering how difficult it was to keep the tobacco lit. The room note was a very pleasant almond/cherry aroma and it was wifey approved. It's definitely not a heavy room note, unlike some of the other aromatics I've smoked. Definitely pleasant. I was a little disappointed in this one since I was expecting another great holiday blend. It wasn't terrible (I've definitely had far worse tobacco), but it wasn't mind-blowing at all. Maybe it will get better with time, but for the most part it left me uninspired. The other 2015 holiday offerings I've tried so far (C&D Golden Days of Yore, McClelland Holiday Spirit 2015, and McClelland Christmas Cheer 2015) are all much better. In all fairness, though, this Kohlhase & Kopp blend is nothing at all like those other holiday blends… so at least it's unique. I'll probably put some of this tin in small jar for smoking this year and will put the rest in a larger jar for cellaring. Maybe it will be a much better smoke next season.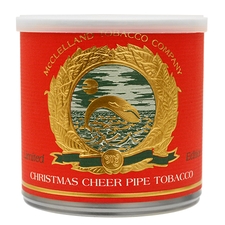 McClelland - Special: Christmas Cheer 2014 100g
Fantastic blend!
This is simply a fantastic tobacco. I've been smoking cigars for over 20 years, but only recently (last two weeks) delved into the world of pipe smoking. This is the first non-aromatic Virginia blend I've smoked and I was so pleased with it I had to smoke another bowl nearly right away. The smell from the tin is fairly intoxicating: rich raisin and spiced fruit notes and a fairly strong sweetness. It absolutely reminds me of a fruitcake aroma. I hate fruitcake (the candied fruit bits seem like something made from pure evil), but I love the aroma of fruitcake – especially while it's baking in the oven. This 2014 Christmas Cheer reminds me of that a lot. I can clearly see why this is a Christmas blend. The tobacco comes in a broken flake form, so it's really easy to rub out whatever amount you need. It didn't seem overly moist when I opened the tin, but I let it sit about 20 minutes after I rubbed it just to be certain. It was super easy to pack into the pipe, took the charring light without issue, and then remained lit for quite some time before needing to be tamped again. I only had to relight a couple of times; I found that simply tamping the tobacco was enough to keep the light going again. The volume of light blue/white smoke was visually appealing and the aroma was pleasantly sweet – the wifey commented upon it's agreeable aroma before I had the chance to ask. The taste on the palate is rather light, which I imagine is to be expected from a Virginia blend like this. No tongue bite or any bitterness at all and even after smoking two bowls I didn't have any sense of dry mouth. I drank an Alaskan Pumpkin Porter during the first bowl and plain water with the second. The Pumpkin Porter actually paired rather well with this tobacco since it's not the heaviest of beers – an autumn beer and a Christmas tobacco. Seems like a pretty good pairing to me! I smoked both bowls down as far as they would go. Fellow cigar smokers will understand since we've all smoked amazing cigars right down to the digit-scorching nub simply because we didn't want the experience to end. I also noticed that this blend doesn't seem to make the pipe smell bad at all. I didn't do cleaning of the pipe after I was done, other than giving the bowl a gentle once-over with the scraper and dumping out the few bits of dottle. The next morning I picked up the pipe to give it a whiff and there really wasn't any disagreeable smell. Sure, the aroma from the tobacco itself is far better, but I was surprised a little. I understand that many pipe smokers snag as much of these McClelland Christmas Cheer offerings as possible for aging. I can see why! If it's this good now, I can only imagine how good it will be a few years down the road! I've already placed another order for 5 more tins to keep on hand. Might just have to make it a Christmas tradition to open one tin each year. I highly recommend this Christmas Cheer 2014 blend. Get it while you can!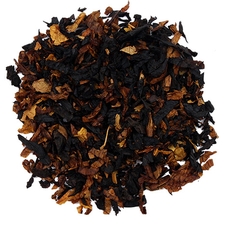 Lane Limited - RLP-6
Absolutely amazing tobacco
I've been smoking cigars for over 20 years now and just in the last couple of weeks expanded my tobacco passion into the world of pipes. I picked up several different flavors of bulk tobacco (RLP-6, 1-Q, Early Morning Pipe, Nightcap, MM 965, Mississippi River) and some tins (Peterson Irish Flake, Frog Morton, and Christmas Cheer 2014) and while many of them are all keepers in my book, the RLP-6 is the only one I've tried so far that I actually love to bits and pieces already. It packs easily, burns easily and slowly, has one of the most pleasant aromas imaginable, leaves no bitterness on the tongue, and has a light sweet taste. You can smoke this at any time of the day and it will be great. I really didn't think I'd like an aromatic this much since I've never been a fan of flavored cigars, but this RLP-6 is awesome. I'm going to buy a pound or two to see how well it ages.
Favorite Products