 Reviews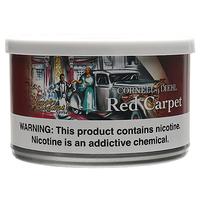 Cornell & Diehl - Red Carpet 2oz
Between fair and good
The tobacco components seem to be too quality. And I enjoy red Virginias. However, it didn't cut the mustard for me. It could be that it just contains too much Perique for my taste, but I found it overly harsh, especially on relight. Nicotine content was also beyond my comfort range.
Cornell & Diehl - Speakeasy Navy Blend 2oz
Surprised!
Well, I've tried a few Navy flakes that I liked (McClelland comes to mind). But THIS was a pleasant surprise. Speakeasy gives a nod to tradition, but then takes it to a creative place that really works. Masterfully blended, the Kentucky wasn't overpowering, and C&D showed restraint with the rum. Tasty stuff!
Planta - Full English
Pleasantly Surprised
To be honest, I haven't smoked English blends regularly in close to 20 years. Normally, I smoke Virginia/Perique blends, sometimes with the addition of turkish or burley. So while I was waiting for this Full English blend to arrive in the mail, I was braced for the worst. Luckily, I was NOT disappointed. Planta uses first-rate tobaccos, expertly blended, with a rich sumptious quality. Burns very cool and even. However, you get the nuances of the smoke when you sip at a relaxed pace. The Syrian latakia is excellent, and the Java leaf is present just in the right amount, without overpowering. Definitely a keeper!
Favorite Products
Currently there are no favorite products