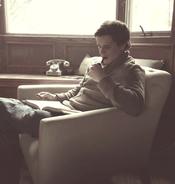 BLAKE
About Me:
Started with a grabow smooth omega and captain black "white" tobacco. Got into dunhill tobaccos, bought a bjarne, another grabow royalton rusticated straight and a savinelli fuoco rusticated 320 as well as a savinelli brown set 207. I recently ordered a savinelli pocket 106 rusticated.I enjoy billy budd by Cornell and Diehl. Been smoking epiphany by that company as well and enjoy it. I moved recently to Houston, TX and the hotter climate compared to Chicago has me turned onto more aromatics and less of the really strong English stuff. Not a fan of the Captain anymore, and have tried Paladin Black Cherry, which I find medicinal, yet oddly pleasant when mixed with both C&Ds Epiphany and Billy Budd. I recently ordered a sampling of Gawith and company's Top Black Cherry, MacBaren 7 Seas regular, and Stanwell Melange. Not a big fan if having a rotation of tobaccos. I like to smoke one pretty much all day everyday and maybe once every week or two smoke another blend for a day just for a break. Outside of smoking I run and hike a lot, read voraciously, am in the process of writing a book, and am in college for math and physics. Ultimately, nothing is more pleasing than reading or writing with a good smoke. Really everything can be made more meditative and focused with a good smoke.
Badges


Reviews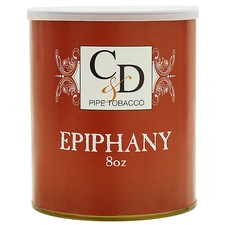 Cornell & Diehl - Epiphany 8oz
Update
After smoking billy budd for the past couple weeks, I returned to some of the epiphany I have in a jar and now see and respect this in a different light. The flavoring is there and is noticeable, but just barely in the background. I actually have grown really find if this blend. The thing is, the strong lat and English blends are great. But like with billy budd, they are to tobaccos that almost demand attention. I like to smoke while I read, write, study, or talk with someone. A tobacco like epiphany is a great compliment to this. It ADDS, to the enjoyment of what you are doing. A stronger tobacco subtracts from this. Billy budd demands your attention. Epiphany is complex enough to stand in it's own, but subtle and gentle enough to add to whatever you are doing. I am see why Einstein smoked a version of this. When I want to just sit and enjoy my pipe and do nothing else, epiphany works well, but billy works better. If I want to sit and write or watch a movie with my pipe and a good glass of bourbon, I'll reach for epiphany. This has finally decided my long search for an all day, very day tobacco staple. Little hokey that it was Einsteins favorite mainly because I study physics as well so in sure to catch some good natured flack from that, but it is definitely the choice for me.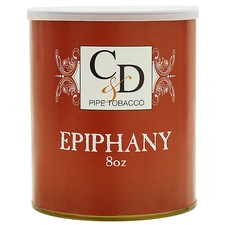 Cornell & Diehl - Epiphany 8oz
Great everyday smoke
I ordered 2 tins of this stuff about 1.5 months ago. Have been smoking it daily as part of a rotation with dunhills London mixture, and nightcap. First off, the flavoring smells wonderful, but thankfully it shows up almost not at all in the smoke. I have had zero complaints about the room note, and it was even preferred over the LM, which I think smells and tastes as any tobacco should. It's a decent strength, with enough muscle to appease my more English enjoying taste buds, but light enough that I can smoke 4-5 bowls a day. If smoked fast it can bite a bit and is a bit harsh when exhaled through the nose compared to the creaminess of nightcap which has no angry or harsh bones in its body. I am really enjoying this mix e cause it is cheap, smokes good, and has a certain complexity to it. It's not a subtle complexity, but as I smoke bowl after bowl throughout the day it changes itself. It's a bit spicy, so depending on what I ate it can taste down right horrible. For instance stay away from super acidic candies like gummy worms or sour patch kids. Those foods torch your rate buds and this tobacco ends up tasting totally sour and rank. In the morning it's lighter and delicate enough to not overwhelm as the first pipe of the day. It's not as pleasant as good morning pipe, but it's not something that wil overwhelm like nightcap smoked first thing. During the day it's what I can only describe as a working mans tobacco. It's not smooth and creamy, but is crisp so works well to accompany a certain activity. At the end of the day it takes on a flavor that reminds me of a natural wrapper cigar. It's not bad, I enjoy cigars, but I do wish it had some of the lower deeper notes and less crisp spice. I'm giving it 3.5 because of that. Perhaps if I mixed some Latakia in it it would better round it all out. This is and unless I find something better, will continue to be a daily pleasure for me
Favorite Products