 Reviews
Cornell & Diehl - Apricots and Cream 2oz
Perfect for aromatics
This blend smells fantastic, in the tin and the smoke it produces. A mild, smooth, and faint taste, it is a good choice for a light aromatic.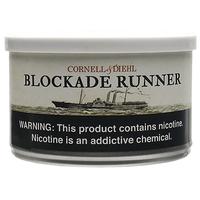 Cornell & Diehl - Blockade Runner 2oz
I like it!
A little bit of work, crumbling it up and packing your bowl, but it has a nautical feel and taste. Flavorful, but not trying to be too much.
Favorite Products