 ETHURIAN
Badges





Reviews
Dunhill - Nightcap 50g
Truth in Advertising
Dunhill Nightcap was my first Latakia blend. And let me tell you, there's plenty! Having only been a Virginia smoker, and having adored Dunhill Flake, I decided to experiment. I was so completely unprepared for what I was about to experience. There it was, its circular tin, its gold and purple colors, and the words that strike so very-true to its nature: A Rich flavored smoking mixture for the evening with its period of relaxation and leisure. I slid my trusty pocket knife between the lid and tin, the air release as I twisted. The presentation was very elegant and seemed fitting. That's when it hit me, like two freight trains on a collision course. I was overwhelmed! Sensory overload! I did not think I was going to like it. I took another deep whiff. This time it clicked; I understood the smells, a rich burnt-camp-fire smell lingered through my nose. I packed my pipe and experienced a smoky flavor rushing in. Its taste lingers even after the bowl has turned to ash. I would say that like most English blends with a lot of Latakia, it numbs your taste after a good long smoke, so I wouldn't really suggest smoking this before say, a regular Virginia flake, etc. However for me, I enjoy the rich smoky flavor of it. To me, it's exactly what smoking a pipe should be. It is a powerfully rich experience that every puff of smoke carries, an array of different flavors all hidden, waiting to be discovered. Quite frankly this tobacco has corrupted me. The amount of different flavors and tones that this blend carries is so vast that everything else seems to disappoint! While I still enjoy a good Virginia, I find my go-to is Nightcap, as well as a few other select English blends. It is an acquired taste I suppose, but one I was glad to obtain!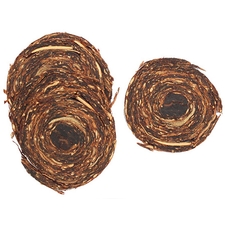 Peter Stokkebye - PS403 Luxury Bullseye Flake
Jar Fodder: Affordable Quality
The Luxury Bullseye flake is the number one bulk selling tobacco for a reason. Affordable matched with quality. The taste is light and sweet, everything you'd expect from a Virginia, with a little spice from the perique. It's a very smooth smoke. If you're looking for a good bulk virginia/per blend, this will serve you well.
Favorite Products