 Reviews
Gawith Hoggarth & Co. - Dark Bird's Eye
review
Another great 'baccy. I like to think this is what Arthur Conan Doyle had in mind when he wrote about Holmes smoking shag tobacco. I don't even know where to begin with this. Dark Birds Eye is awesome and irreplaceble.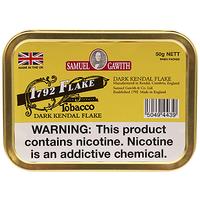 Samuel Gawith - 1792 Flake 50g
review
This is one of my favorites. Everything works well with with this blend. Room note, flavor and vitamin N levels are all superb. When I first tried it years ago I did not like it because I could not keep it lit. I don't have that problem anymore.
Low Country - Guendalose 2oz
Guendalose review
Good stuff. Love it and will probably order some more when my trial tin is finished! I would like to add that I would buy this by the pound if it was sold in bulk.
Favorite Products