 Reviews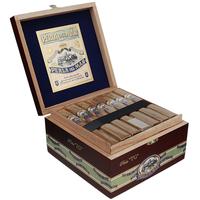 Perla Del Mar - "TG" Shade Double Toro
A nice seashell, but no Pearl
A very smooth and easy smoke even if your draw is on the heavy side. Not much complexity here, there is a mild spice coupled with a dried fruit sweetness that comes in and out which I found myself chasing as the finish is very short. The burn is decent enough, it did canoe on me here and there but it managed to catch up. Overall it is a good cigar for a newbie even at the 60 gauge but even then the price seems high for what it is. Not a bad smoke, just one I will soon forget.
Sutliff - Barbados Plantation 1.5oz
Solid Smoke
This was the first aromatic I ever smoked and have always had a tin in store. Fantastic mild sweet flavor blends perfectly with the subtle black cavendish. I find it to be a little on the wet side for my taste but that's not a real problem. A great smoke for any time of day.
Favorite Products
Currently there are no favorite products