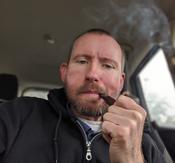 BILLBO
About Me:
Pipes and tobacco. Some times cigars, but not generally. I work in IT, but it's just a job. My true passion is the God given leaf tobacco.
Badges






Reviews
Mac Baren - 7 Seas Royal 3.5oz
My aromatic smoke of choice
I can't really add much to what good things have already been said here. I never smoked aromatics until I started smoking this. My brother actually encouraged me to try it again (I did in the past and didn't get it). I'm very glad he prodded me to do so as this has become a fixture in my general rotation. I've even dedicated a pipe to it. Great burning qualities, very easy to get lit, and a very good tobacco flavor that is wonderfully complimented with what ever magic topping that MacBaren uses here. It smells great and taste great. It has even been my experience that I can start a bowl the night before and pick it right back up the next evening and it still smokes wonderfully. I simply adore this tobacco.
Favorite Products