 Reviews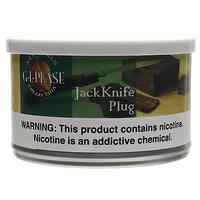 G. L. Pease - JackKnife Plug 2oz
Solid Blend
Quality tobacco! This is my first time with plug tobacco. I bought a tin of this in 2012 from a local B&M but didn't get around to opening it until last Fall. Rich pungent tin note; somewhat like BBQ. I wanted to slice it thin into a ribbon but accidentally got it too thick. Very slow burn but no bite although there was some harshness when smoked fast. I set it aside to try again and earlier this month I decided to slice the whole plug and rub everything out before putting back into the tin. It took me a couple of hours of slicing and I used scissors to cut pieces thinner as needed. Then I put it back in the tin a waited a few weeks before smoking. While still a LONG smoke, I managed to smoke the whole bowl and was very very pleased. Don't know what this stuff is like when new but aged 5 years it is fantastic. Surprisingly moist though and I think some dry time will help the burn.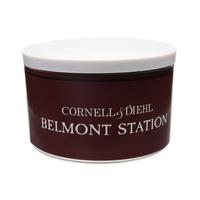 Cornell & Diehl - Belmont Station 2oz
Unique & Flavorful Aromatic
Unlike most aromatics, Belmont Station is packed with flavor. The vanilla is present in the room note but not so much in the taste. The dominant flavor is similar to a rum raisin cookie. The tin note is of dried fruit and tart raisin. At times the dark fired appears in the aroma and adds a smokiness to the flavor. Around midway through the bowl the virginia becomes noticeable. All in all this blend is very complex. Not an everyday smoke but certainly good for those times when you want something different. Burns surprisingly cool given how the tobacco is overly moist when you first open the tin. It will be interesting to see how this blend changes with a smidge of dry time.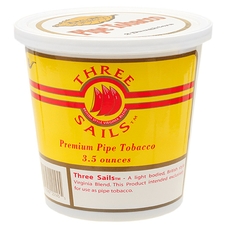 Daughters & Ryan - Three Sails 3.5oz
Surprisingly Good
Across the web the reviews for Three Sails tend to fall in the love it or hate it category so I wasn't sure what to expect. I am a beginning pipe smoker and have not really developed much of a pipe tobacco palate yet but that said, I really liked this blend. I smoked it in a Missouri Meerschaum Missouri Pride corn cob pipe with a Savinelli balsa filter in place of the usual Medico filter. When I ordered this blend I expected that I would need to open it up and put a Boveda packet in for a few days to bring the moisture content up as many reviews said that Three Sails usually arrives bone dry or pretty close and that combined with the shag cut makes people think that this blend is a stealth RYO tobacco. When I broke the seal I was surprised to find that the moisture content appeared to be almost perfect. I did the "pinch test" and felt that it was pretty close to ideal but since shag tobaccos feel fairly soft to the touch unless they are crunchy dry I am going to leave the moisture pack in for awhile and check it every day until I get the moisture level up just a tad to be safe. I normally just spritz distilled water directly on the tobacco and then seal it for a few days before checking it and adding more if necessary. However, I have found that shag and other fine cuts can get overloaded and clumpy real quick making it difficult to separate and "fluff up" in preparation for packing. So I decided to try a fresh 8 gram Boveda 69 packet instead. I could have used a lower RH but since 69 is what I use for cigars and it is only temporary until I get the moisture up slightly I didn't see the point of wasting money on lower RH packets that I might not need to use as much. Because the moisture level was so close to ideal I decided to smoke a bowl to see how it would perform "as is." I have had a hard time learning how to pack a pipe properly and lately I seem to have arrived at a method that works for me. I like a loose pack to start and then use the tamper during the smoke to tighten it up if need be. I was a little hesitant to try that with this blend as I have heard that you need to pack shag cut tobaccos much tighter than the typical ribbon or rough cut. Since I was afraid to end up with a too tight pack that has frustrated me in the past I went ahead with my loose method. I added a touch more tobacco to the bowl than I have so far with other blends because when I checked to draw there was virtually no resistance. After I got the last bit in the draw still seemed easy like I prefer so I left it at that. The tobacco lit easier than any other I have tried to far and while I tend to have to do tons of relights in an average bowl of other blends, I was able to get by with about half or less of my usual relights. While others have said Three Sails is a super fast smoke, it lasted me almost an hour which was longer than the other blends I have smoked lately in the same size pipe (IRC Private Blend, 4 Noggins' Killington, Sparrow Mild). I tried to keep track of relights during that time and I think it was around 10 give or take a couple. Three Sails, like many D&R blends, has a reputation of being hot and bite prone but I didn't have any problem. The bowl got hotter than with my other blends so I took it easy just in case but I never had any bite or irritation. I don't know if I was overzealous with my tamping but about halfway through the bowl the draw started getting progressively tighter. I was worried that it would start to bite or be hard to keep lit or relight but it wasn't a problem. If anything the smoke volume increased and the flavor became more pronounced. Now I am not a great judge of flavor as most blends (other than English mixtures) tend to taste the same to me. Perhaps I smoke too fast because I hate having to relight causing delicate flavors to get lost or masked or maybe my palate isn't refined. I found the taste to be that of a smooth basic tobacco flavor. The aftertaste was mild, similar to a Garcia Y Vega English Corona cigar. I didn't detect any sweetness but there was never any bitter hints that I could tell. Near the end of the bowl I couldn't tell whether I was getting to close to the wooden part of the cob bowl so I stirred around the ash a bit to make sure. When I saw there was still some unburned tobacco there I tamped the ash level and did a careful relight. The draw was tighter but there was massive amounts of smoke and the flavor became somewhat creamy. This really surprised me and I puffed contentedly until I guessed that I had pretty much finished it. I set the pipe aside to cool and then scooped out/dumped out the ash and there was only a few shreds of tobacco left. They were quite wet so I am glad I didn't push it. One final note: the weather was super muggy out and I wonder if the moisture from the air was keeping the tobacco from burning too fast. I'm not sure how much air humidity affects your smoking but I do know that when I smoke cigars outdoors on humid days they can take longer to burn and the flavor profile will change. All in all I think this would be an all day blend. If you like value and enjoy shag cut tobacco you should give Three Sails a try.
Favorite Products