 Michael F.
Badges

Reviews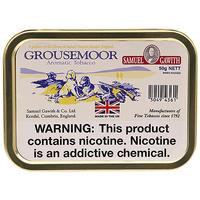 Samuel Gawith - Grousemoor 50g
Aerobatic Incredible
This tobacco, while extremely damp out of the tin, is a light and easy smoke. Lovers of aeromatics will love it. It's extremely sweet to the taste and has a very unique pre-smoked aroma. The smoke itself is cool, although it is recommended that you allow the tobacco to dry for time before smoking it. The room note gives one the impression that they have entered the room where a campfire has taken place. At least that's the impression I was given by others when they entered the room. Smoking it and then smelling the notes did not give that impression to me. Instead, I smelled lichorish and star anis. It is a fairly strong tobacco. It is not as strong as some that I have smoked and as long as it is smoked slow and evenly it is not too overwhelming. I recommend this very unique tobacco. If for nothing else, but try something so different. You will either absolutely love it (I'm in that category) or absolutely hate it.
Favorite Products
Currently there are no favorite products