 Reviews

Lighters - Zippo Black Crackle Pipe Lighter
No Fluid
I'm sure the thing will work like a charm, but it came bone-dry. I was curious whether it would come with lighter fluid because nowhere in the description does it say whether it will need to be filled or not. I understand why they would not ship a light soaked in lighter fluid, but it would have been nice to know ahead of time.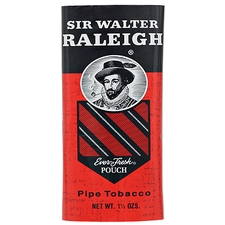 Sir Walter Raleigh - Regular 1.5oz
Rather Plain
Smokes with a bit of spice from the oriental and a slightly sweet nuttiness from the burley, but ultimately tastes like a very mild cigar and smells a bit cigarette-y. If you just want a nice plain tobacco taste, this is for you. If you want complexity, look elsewhere.
Favorite Products