 Reviews
Dunbarton Tobacco & Trust - StillWell Star English No. 27
Loved it!
I wrote a less than glowing review for the Aromatic in this series. But the English…WOW! One of the best cigars I've had in awhile. Full, rich with hints of a nice English blend. Will definitely be buying more of these!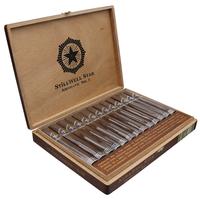 Dunbarton Tobacco & Trust - StillWell Star Aromatic No. 1
Meh
For $15 I should be happy at the end of a cigar. This one was average at best. Pleasant enough in the beginning. The sweetened cap was unexpected. Mild hints of pipe tobacco in the aroma but not much on the palate. The draw on mine was very tight. I'd give it 3 stars but the last 1/3 of the cigar would not stay lit. If you want to give me a free one, I'll smoke it. But I don't think I'll be buying anymore at $15….
Favorite Products