 CAMPBELLJ4
Badges









Reviews
Erinmore - Erinmore Flake 50g
Erinmore or less?
I hesitated to write this review, after all, there is quite a bit written here and elsewhere on this tobacco. It's legion of followers can not be denied as this is in the top 20 in sells rank. There are close to 50 reviews here on Smokingpipes alone so I had to read through the most recent reviews to see if I had to say anything different that would be of value to someone coming to Erinmore Flake for perhaps the first time. There is a lot of expectation around this tobacco, either a floral/fruity love it or hate it crowd over top quality leaf. Coming to Erinmore late myself, I have no prior Erinmore experience so can not talk to what has change or what has remained the same, but I can tell the reader what my experience and thoughts are on the current product. Upon opening the tin, the flakes are beautifully presented package in its tight square paper. I was not greeted with the scent of pineapple, but there is a definite slight fruity topping slightly moist and dark. So from the initial tin note, tobacco and subtle fruit, more of the citrus variety than the stone fruit variety. Some have said "Juicy Fruit", but that would be slightly misleading and make one think of more Esoterica's "And So To Bed" of which this is definitely not, but I can understand the reference as the fruit is evasive, there but undefinable. I tried my first bowl rubbed out and subsequent bowls in a twisted fold and stuff, which I think is my preferred packing for this flake as the rate of burn is easier to control and sip, where this cadence really allows the full depth of this tobacco to shine. So into my meerschaum this goes, I have drilled all my meerschaum stem tenons to accept a small 3mm paper filter to help when tobacco is more moist then my patience will allow to dry. Initial char was spicey almost like there was dark fires Kentucky in the mix, not tongue bite, but spice played across my tongue. Something I was totally unprepared for which is unique in these reviews as I have yet to read another piper express any form of spice in their experience with this mix. On retro Hale and finish, the mouth is filed with the delicate interplay of sweet Virginia and subtle gentle fruit essence. Juicy fruity? Kinda, unique and unplaceable, definitely. The entire bowl plays between the tobacco flavors shifting to spicy sweet and fruity never one over the other but a definite inter play, intriguing, elusive and full. A pipeful if mystery, but by mid bowl the nicotine kicks in and if not careful can easily be too much for a medium size bowl. But, when gently taken through its pace, can be controlled with this unique experience of interplay's. The finish shines and increases now through the last 1/4th of the bowl. The end result, teetering on too much nicotine, but enticed with a finish that lingers in the mouth it's hard to resists coming back to...it is what I imagine a true Irish Flake to be and makes one want to power through the heart palpitation as it is a great bowl of tobacco. This may not be anyone else's experience, but I can definitely understand why this has a legion of devoted fans, for me, due to the nicotine level a smaller bowl pipe works best as I can not see me coming back again and again to this blend. Having smoked plenty of UF, WF, Marlin F, the nicotine level is higher but in this VirBur flakes it is unique and I am on the hunt for the US elusive Malcolm Flake to compare the two different blends, but until that time I think Erinmore, while not necessarily better then others does have a uniqueness worth experiencing again and again.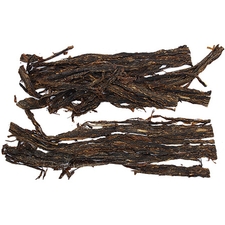 Gawith Hoggarth & Co. - Scotch Flake
A Coy Mistress
I struggled for a while with this flake. As initially it was bland and bitey which seemed at odds with its generally favorable reviews. I determined the best approach would be to microwave for 10 seconds and smoke in a filtered pipe. While definitely not a flavor bomb it quickly became subtly sweet and toffee like in the bowl with slight herbal notes. Not your usual Scotch blend as there is no oriental to give that sour depth I normally associate with good Scottish flakes. But it does leave one wanting more as the taste shifts between toffee and herbal and back again. Definitely worth smoking in those more contemplative moments as the flake is enticing in its subtleties (Edit Update 12/13/2018): I have recently updated this tobacco from a 3.5 to a 4.5 and have moved this as my favorite tobacco. This flake is excellent when stoved. Take 4 oz and put in a mason jar, secure the top with tin foil and the outer ring and cook in the oven for 2 hrs at 220 degrees. A deep dark sweetness is present in the finished stoved product with hay and grass through out the bowl. Once stoved, this tobacco gains a deep, molasses like sweetness that sits just behind a rich grass/hay Virginia flavor. If you can wait for a 2 week rest, you will not be disappointed, I could not wait and started smoking immediately the next day, once all the moisture appeared to be re absorbed back into the flakes and am being rewarded with a deep floral smoke, that moves between a deep grass and hay flavor. Occasionally a subtle sour earthiness pokes out an then goes back into a rich herbal flavor. This is a phenomal smoke once stoved and very well worth takin the time to stove. Wow, this is now my favor tobacco. Take a flake, and fold and stuff 2/3 of the pipe, rub some out as filler and pack on top and around the folds of tobacco and prepare to be amazed!!!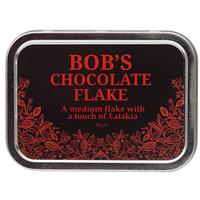 Gawith Hoggarth & Co. - Bob's Chocolate Flake 50g
Finally, Bob's Chocolate Flake in all its glory
I have had mixed results with the bulk flake, so ordered this in the tin. While I don't usually let the bulk flakes dry before smoking I decided to try something I read briefly on one of the tobacco forms. Before folding and stuffing I microwaved for 10 seconds in the microwave (5 seconds, and then 5 seconds for a total of 10 seconds). The tobacco came out slightly warm to the touch and while initially wet that moisture quickly evaporated. Folded and twisted into my large bowl Meerschaum pipe fitted with a 3mm paper tube filter in the stem. Wow. Char lighting started with a slight Latakia forward smoke that settled into an true light of balanced tobacco flavor with a slightly sweet Smokey creamy smoke that lasted over 2 hours (a single flake mind you). I think I can finally say that Bob's chocolate flake is a wonderful product offering. There was still quite a bit of moisture captured by the paper filter tube, but oh my, what a wonderful, balanced smoking experience every so slightly floral but not in the usual Lakeland sense, dancing in my pipe with the soft Latakia poking up to fold back into the sweet light baking coco flavor coating my entire palette in this wonderful smooth sweetness that never became harsh. Undortunately, my palatte did begin to fatigue but definitely one of my new favorite pipe tobaccos and a very successful experiment in preparation!!!
Favorite Products