Reviews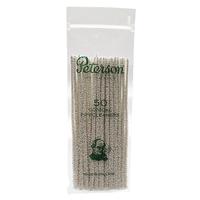 Cleaners & Cleaning Supplies - Peterson Tapered Pipe Cleaners (50 Pack)
Never before encountered...
...pipe-cleaner wires that break. These Peterson's are unusually absorbent, and that's the good new. To make them taper to such a narrow point, the manufacturer has used a very thin wire. When I double the pipe cleaner up to swirl around the bowl and clean up the residual dust and soak up any moisture that has settled in the bowl, the wire often breaks, making the exercise a little more difficult because the pipe cleaner becomes floppy. I won't be buying these again, especially as my favorite tapered pipe cleaners, made by Decatur, have apparently returned to the market after a long, unexplained absence.
McClelland - 5125 - Coyote Classic Full
A Cornerstone
I am this minute finishing up my first 4 ounce purchase of 5125, which is now firmly established in my rotation. The subtle sweet sourness of the orientals pulls the Latakia and Virginia components into sharp, contrasting focus, the net result being a sublimely satisfying, reverie-inducing smoke. The pressed aging of the blend, I surmise, yields a slight, smoky tree-nuttiness that, in my mouth, is unique to this mixture. It's difficult for me to concentrate on anything other than the fragrant clouds of billowing smoke and the full, luscious flavor of each puff. My book sits open, unread, on my lap. I greatly look forward to sampling the effects of aging on this delightful blend.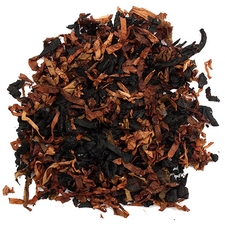 McClelland - 2040 - Cyprian Mixture
Misled by Blending and Tasting Notes
I had precisely the same reaction as the reviewer from 4 years ago who observed that this was no Balkan at all but some species of vanilla-cased aromatic. I received a 2 oz bulk baggie today, fired up a bowl, and thought I was smoking a luxury blend of Captain Black. Vanilla is indeed the predominant tasting note, and I simply cannot understand how any reviewer, on this or any other pipe and tobacco site, can miss it. That said, this will be a big hit with pipesmoke haters, who will surely love the room note, just as my Mom loved Dad's Captain Black and very little else he stuffed into his pipe. I should also add that, in my mouth, a pronounced bite was apparent from the very beginning. My palate (but not to mine alone) informs me that 2040 is an epic fail. I'm going to give this bag to a friend who enjoys aromatic blends. (2040 also raises the serious question of different mouths experiencing the same tobaccos in very different ways. There's no accounting for taste of any variety, and here we're talking about physical human variations in tasting apparatus, and thus for human variation.) I love McClelland tobaccos, but they've apparently done something to this mixture that causes it to depart from the blender's tasting notes and certainly takes it out of the Oriental/Balkan category.
Favorite Products