 NOR-CAL SMOKY
About Me:
Mid-forties, married, kids, Northern California, work for a major trade union. Smoke 1 bowl a day as a treat. Sometimes every other day - it's a hobby, not an addiction, right? Love tobacco and pipes for the taste, variety, and most of all the ritual.
Reviews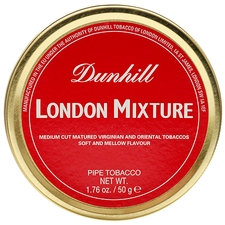 Dunhill - London Mixture 50g
Textbook English Blend
Rich, bold, and smoky and yet still smooth English blend. I didn't exactly love it the first time I smoked it but it has grown on me. It is now part of my regular English rotation along with My Mixture 965 and Presbyterian. Its a textbook English blend. I definitely recommend it.
Davidoff - Danish Mixture 50g
Smooth...like ice cream!!
I love this blend. Probably my favorite aromatic right now for sure. Moisture content is tricky - upon opening, seems a bit dry but it can benefit from a bit of drying time before packing. Tin note and room note are subtle yet very pleasant. You definitely get the feeling that you are smoking high quality tobacco and not cheap, fruity drug store aromatic here. Lights pretty easy, stays lit, and produces a rich, creamy smoke. This brings me to the taste - subtle yet delicious. Vanilla, nuts, almost a creamy buttery aftertaste. Then it hit me....butter pecan ice cream!! Give it a try, I think you'll enjoy it.
Favorite Products
Currently there are no favorite products