 Thomas I.
Badges






Reviews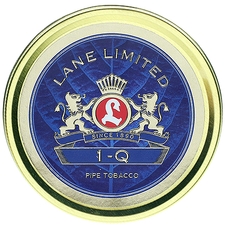 Lane Limited - 1-Q 1.75oz
A Great Aromatic!!!
I love this tobacco. I typically don't gravitate towards aromatics as I am more partial to unflavored tobaccos (English, Virginias, Va/Pers, etc..)but this one is the exception to the rule. 1-Q is not your typical goopy wet mess aromatic. It's a well balanced blend with good quality cavendish and virginias. The vanilla casing/topping doesn't overwhelm the entire experience. It also smokes clean and dry. Don't have to go through a ton of pipe cleaners when I'm done smoking a bowl. Definitely one of the finest examples of what a great aromatic can be when done right!
Dunhill - Nightcap 50g
King of Tobaccos
I've been a fan of English tobacco for years now and I always use Dunhill's Nightcap as my benchmark when comparing new blends. The Latakia, Oriental/Turkish, Perique and Virginia in this blend have a legendary reputation for being one of the strongest English blends out there (I'd have to agree) but nothing to be afraid of. I am not particularly sensitive to nicotine but your mileage may vary. Definitely, Latakia is the main attraction in this blend but it is not overpowering. There is an elegance to the way the different component tobaccos come together to produce a rich, woodsy, smoky, earthy, creamy flavor. As the name implies, Nightcap is not an all day smoke but rather a treat to enjoy in the evening after a good meal. As almost all Dunhill tobaccos It's moisture out of the tin is almost perfect although it could benefit from some drying time (15-20 minutes). It packs easily, stays lit and smokes well. I have never gotten tongue bite from this blend regardless of my cadence. All in all, I highly recommend this tobacco. If you haven't tried Nightcap, do yourself a favor and order a tin and give it a try!
Favorite Products