 Reviews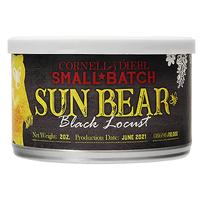 Cornell & Diehl - Sun Bear Black Locust 2oz
THIS MEAN i have to smoke that
SOLD OUT??!! AS THEY SAY IN AUEBEC, "Qu'Est/ que ce?? Dude! Ou' est ma' tabac??EH? C'EST TERRIBLE!! (I believe they say roughly the same thing in Louissiana! So, now I AM nUMBER 475 IN lINE?C'EST Horribe! Does this mean that I HAVE TO SMOKE THAT wacky french tabaccy from Quebec until the "busy Maryland Bees "dive bomb"enough of this with their magic elixir?
Cornell & Diehl - Eight State Burley 2oz
THE LEAMINGTON COUNTY, UPPER CANADA, RED COATS SMOKE!
This is a truly fine Burley Mix~ Crafted with a fnely tuned palate and nose; I was thrilled to see the incorporation of some of the aged, excellent, Upper Canadian Burleys! A leaf noted in Upper Canada a nd even in Habitant Quebec by Les Courirt du Bois, Les Voyageurs, and British Army Black Watch kilted Regiments, alike, as 'LE TABAC" carried westward on Mackenzies voyage to the Arctic, and the Pacific! and Fraser's trek through British Columbia, as well as LaVerendrye's first Whiteman's sighting of The Rocky Mountains! A Great burley smoke, that opened up the North American West! And does this baby ever reflect its heritage! A delightful, yet full bodied smoke! That opens with a subtle, light tang on the tongue, and then, as mid bowl approaches, opens into a full bodied substantial Burley taste, with a slight undertone of caramel but tempered with a delicious English tartnss of body! IN SHORT, an all-day smoke of Heroic Proprtions! And with a bend of the "Burley Knee" to every notable Burley variety cultivated in the opening up of North America!
Favorite Products