 Reviews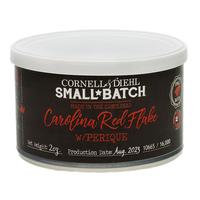 Cornell & Diehl - Carolina Red Flake with Perique 2oz
Well now?!!
look who decided to drop in this morning. Unexpected! 6am getting ready for work opened my email and i scroll pass this. Thanks Jeremy! Thanks for interrupting my original tobacco purchasing plans to now buy all that i can of this in one day. Preciate it. This is great. But seriously, this is probably going to be really good! and bad for other reasons. I seriously was thinking that maybe this year they were going to skip doing this because of all the other drops they just made. shows you how much i know. It's scary , coincidently, 2 nights before last i was looking for something to smoke and reached for a jar of CRF '22, popped it, ahhhhh punggent!! mixed it with a little aged burley i had, man the flavors after a year in that jar and the aroma like i said. Yeah that '22 done did it. Anyway, just funny to think that happened and then this. I ain't B.S.'n either. Its not like they came with a warning well before hand. They literally shot emails at people while they were gettin ready to go to sleep and then dropped a load on us while we were sleeping and then threw the video at us right after! i mean thats what it feels like. I mean I'm grateful, i love ya jeremy but, maybe next time lemme know a week in advance before you come kickin my door in. i know you need money i need money too. and your tobaccas delicious. and now i'm broke and i still gotta go more broke left! Anyway, 3 stars for bringing back a delicious well known blend, a 4th star for my confidence that its gonna be great, and hopefully after i get my tin and smoke it it'll be 5 stars like CRF last year was. Thank you to all!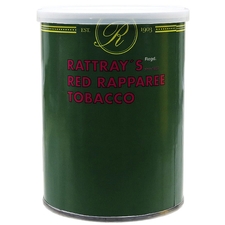 Rattray's - Red Rapparee 100g
Age serves it well
Acquired 2 tins 10/20/21 and cellared them cuz i like english blends and hadn't tried this one yet. Was just looking recently and saw this was back in stock and thought well here's that "once in a blue moon" day but, couldn't really justify buying any more of it this very second. I hadn't even tried it Yet! Wasn't planning on opening any either until i don't know when, especially due to the rarity but, probably on some special day? Then October 22, 2022 rolls around and this day just went to shit. Lmao. At the end of this day that life made sure that i thoroughly enjoyed, i said screw it, cracked that damn tin, packed my Bing Savvy and had one of those sublime moments (that lasted 55 minutes btw), everything that i've been told, including the reviews of this blend i've read over the years of how good this is, Man! It's God's honest truth. Is this the end all be all? No. No blend is. Cuz that would mean you only smoke the one blend that nothing else can satisfy your craving to smoke? Get Out. Yer just gonna go and smoke another blend anyway. My point, i haven't tried this fresh, cuz i just chucked it in the cellar for a year and sort of forgot about it but, Listen! That's about all the time this blend needs. Now i've smoked a couple of bowls consistently out of the same pipe, and every time is grand! A sweet (but not too sweet) and savory English/Scottish blend with all the nuances that have been well stated and embellished by a legion of well seasoned pipe smokers over again. I can concur. Satisfies all the points i was looking for. Life is short and sometimes it likes to show you everything that can happen in a day including get you to smoke a beautiful blend that you've had cellared for over a year at the end of it all. Hey we all know what this cellaring business is all about ok? But at the same time, don't wait too long fellas, enjoy it while you can!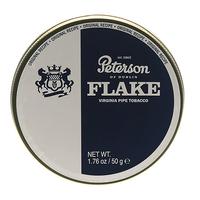 Peterson - Flake 50g
never fails
You know, forget smelling, its like they can Feel when Non-Hoarder blood is buying premium tobacco. My 1st tin, come back, its out of stock. In similar thoughts, you remember that time Luke was on the death star and Lord Palpatine was sitting there with Luke's lightsaber beside him, taunting him, saying, "You want this, Don't you?" The Empire may always be striking back but, "May the Flake be with You". Buy enough of what you need fellas but never weigh yourselves down with things you can't take with you. But, enough of my sordid soliloquy, this is one of the Finest virginia flakes made. No arguements. Smooth, bready, sweet, all the nuances, with absolutely no bite. Delicious and satisfying. Enjoy!
Favorite Products
Currently there are no favorite products