 Miguel P.
Badges

Reviews
Low Country - Natural Virginia & Burley
Well balanced all-day Tobacco
Wow, it is a all-day Tobacco, well balanced It came with a perfect moisture. Perfect quality-price to be honest I never thought it will be so great but I was worse... 1 more thing to add, I think the Virginias' contribution is more than burley, in fact it smell like pure Virginia but I won't be a problem.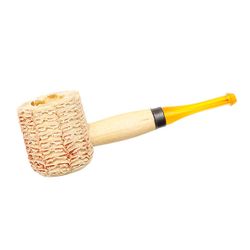 Missouri Meerschaum - Mini Corncob Amber Stem
Don't waste your money
When I smoked it the chamber burned at the first time
Low Country - Natural Virginia
Nice and mild virginia
I thought it was a Natural Virginia but when I tasted it definetly it surprised me I felt like I was an aromatic but I supused that it was a Virginia's contribution I have no idea but It really liked me. Thanks Low Country. If you are looking for a tobacco for a transition to aromatics to non aromatics it could be a great option you should try it.
Favorite Products
Currently there are no favorite products