 Reviews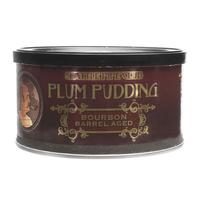 Seattle Pipe Club - Plum Pudding Bourbon Barrel Aged 2oz
The one and only
As a relatively new pipe smoker, I have taken the journey from heavily cased aromatics onto more complex profiles and flavors. I recall trying plum pudding some time ago and was floored by how much I enjoyed something that I would have never picked up on my own. I accidentally ordered the Plum Pudding: Bourbon Barrel Aged around the same time and at first I wasn't particularly fond of it. Over time though, things began to shift. I noticed after a couple of weeks that I was pinching more of the bourbon aged tobacco than the original plum pudding. The more I smoked, the more I appreciated and enjoyed. By the time my first tin was done, I was certain that I had found my favorite. I just received a new tin yesterday and cracking open the tin of Plum Pudding Bourbon Barrel is sheer joy. The sweet familiar smell of bourbon permeates your senses right away. It may catch you off guard at first whiff. There is a full bodied sent to Plum Pudding BBA that I cannot explain. It begs to be the smoke you have after a nice dinner while contemplating the day. The taste, room note, and strength are aligned perfectly. This is not a tobacco you want to puff like a chimney. This is one you really have to take time and appreciate every level of it's complexity. This is absolutely my favorite and I am confident this will be my daily smoke for a long time to come.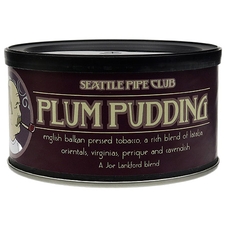 Seattle Pipe Club - Plum Pudding 2oz
A Thousand Pardons...
I purchased this on the suggestion and recommendation of many of the YouTube videos that I looked into trying to find a new tobacco to enjoy. I was a bit hesitant at first but upon getting to taste it I can say that the hype is absolutely warranted. I have smelled particular tobaccos similar to this, with it's tart sent, but never have I experienced a flavor so commanding of my senses. The next time I order this, it will be double the amount, only so I can cellar the rest and appreciate it more down the road.
Favorite Products
Currently there are no favorite products