 Carlo D.
Badges


Reviews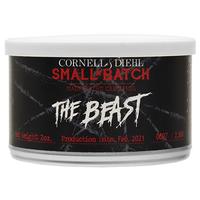 Cornell & Diehl - The Beast 2oz
Dumb Name, Good Tobacco
The premise and name of the product is kinda dumb, but this is a darn good vehicle for Perique. The tin notes are rich dried fruit and leather and makes your mouth water just smelling it. The flavors of fruit and rum are present on the light but develop into mere hints against the peppery leather and earthy flavors of the Perique. This one was definitely in my wheel house even though I normally shy away from heavily cased tobacco. If you attacked the tobacco because you couldn't get it, you're just being ridiculous. There are a lot of tobacco I want to try that I can't get my hands on. I don't give them negative ratings because they are difficult to get. Grow up.
Favorite Products
Currently there are no favorite products