PYRATTE PIPER
About Me:
All men must choose, before they die, what they are running from, to, and why.
Reviews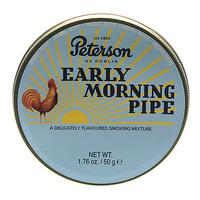 Peterson - Early Morning Pipe 50g
Waited too long!
Why did I wait so long to try this! My Take: I've been smoking pipes now for a year and keep my own dossier, however, this is my first review. Upon opening the tin and allowing the Latakia to penatrate my nostrils, I needed no more persuasion to load it up and begin the ritual! Now, not to scare anyone off that it is a Lat bomb because it's not. Char light, quick tamp, and off and running! My biggest fear was the Orientals taking over as it warmed up. This was not the case! A beautiful choreographed dance between the flavors, all sharing a turn back and forth. The Latakia bowing out gracefully to the Orientals, who in turn relinquished control to a pure tobacco flavor. With each relight it would begin again! Five stars and three cheers!
Favorite Products
Currently there are no favorite products