 Reviews
Cornell & Diehl - Smokingpipes 20th Anniversary Blend: XX Flake Dark 2oz
Very Good
I purchased both flake and dark flake. The dark flake is very good. From the first light, there is a ever present spice with an underlying sweetness. The nic hit is more than the XX flake to me. The tin I opened is #329/5000. The flake is completely broken. No full flakes present. This is a very nice blend.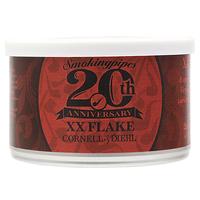 Cornell & Diehl - Smokingpipes 20th Anniversary Blend: XX Flake 2oz
FANTASTIC!
Just received my **first** order of 20th Anniversary XX Flake. Wow! I love this tobacco! Smooth, sweet, and delicious. The flavor was consistent from first light to the bottom of the bowl. I can't wait to try this again many years from now. Well done! Awesome tobacco!
Favorite Products