 AF
About Me:
I like to carve pipes and smoke them occasionally
Reviews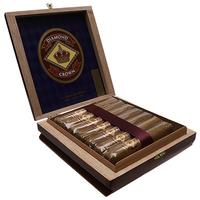 Diamond Crown - Robusto #4 Natural
Smooth Smoking Cigar
I first discovered Diamond Crown Cigars about 23 years ago after I had moved to Norman Oklahoma. Apparently it is a west of the Mississippi cigar. One of the things I liked about the Diamond Crowns is the oiled wrapper. It makes the outer surface smooth. It feels good in your hand and in your mouth. It has what I call a mild medium flavor. Once you light it it burns smoothly and evenly and you won't want it to go out. I still have a few in my humidor that I smoke on special occasions. Now that I know where to get them, that will change.
Favorite Products
Currently there are no favorite products