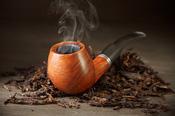 Reviews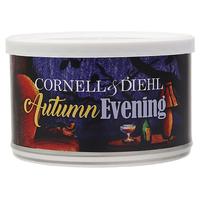 Cornell & Diehl - Autumn Evening 2oz
Maple & Spice
With this being my first experience with "maple" aromatics my expectations were neutral. It definitely has a nice maple and buttery taste and reminds me of pancakes. But... the Red Virginia Cavendish starts to overpower the maple as I get further through each bowl. Starts off as a cinnamon type experience, but then progresses to an overly spicy tang that I don't really care for (and I tend to like spicy foods, go figure). The spicy notes left an after taste on my tongue that wasn't that enjoyable for me. Nic hit was more towards the higher side for me, a sneak attack that I wasn't expecting, maybe it was the Red Virginia coming through. No noticeable tongue bite, smoked cleanly with no moisture. Tried using a meerschaum and cutting 50/50 with a straight Cavendish and also again 50/50 with 1-Q, but still get that extra spicy taste. If you like Red Virginia, then you'll probably really like this as I feel the maple was done quite well. But, my experience was a bit like trying to enjoy a stack of pancakes at 2:00 AM while a dude in the next booth is smoking Marlboro Reds.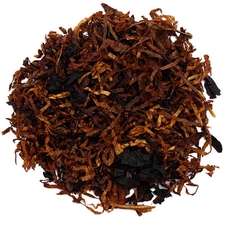 Lane Limited - 1-Q
Decent (original review), Good Stuff (updated review)
Original Review: Very light tasting with a bit of a vanilla note. Consistency of the blend I got was a bit weird, kinda reminded me of pencil shavings and an occasional twig. Tends to want to bounce back out of the pipe when I pack it, perhaps the batch I got was a bit dry. Overall a consistent decent tasting smoke, nice room note, but not much of a nicotine hit. Good for a quick 20 minute smoke outside on a hot summer evening (can't smoke in the house), no tongue bite that I've noticed even with aggressive puffing. Occasionally will spit embers on my churchwarden towards the end of the bowl (I prefer the breath method) and on occasion I get a bit of leaf into my mouth towards the end of a bowl on my Peterson System pipe. IMO is a good blend for those new to pipe smoking. Updated Review: Upgrading from 2.5 stars to 4.5 stars. After a year of searching for good bulk aromatics, 1-Q is in my opinion the most consistent and best tasting blend I've found. My first batch from earlier review was a small 2 oz bit, but I now order this stuff in 4-8 ounces and find it's much better. I don't search for any nicotine hits (I'm in it for the flavors) but the hit is mild and can reach toward middle of the scale if you smoke it long enough on an empty stomach, which IMO makes this a great all day smoke. Smooth from beginning to the end of the bowl down to ash (zero to very little moisture even on humid days) still zero tongue bite for me even when I push it like a blow torch. I get tasting notes of vanilla, caramel, occasionally a bit of toffee when smoked slowly. I've had someone comment that the room note is a bit like marsh-mellows. I've smoked in both a briar and a meerschaum, tastes better and a bit deeper in a briar IMO and I've dedicated a briar to this blend (yeah I'm sure it will ghost the briar, but that's just what I want). Just seems to keep getting better! I've since started exploring English blends (Dunhill / Peterson Standard Mixture & SPC Plum Pudding favorites at the moment), but I've found myself still coming back consistently to 1-Q when I'm in the mood for an aromatic.
Captain Black - Original 1.5oz
Okay for OTC, but not for me.
I've been pipe smoking for about a year, so I'm not so much of a newb and don't consider myself a leaf snob either. I've been getting a burly blend and cavendish from a local cigar shop for the past year, and saw all the hype on CB and thought I'd try some out. First off, it's very sweet which should have been my first clue that this might have a bunch of PG in it, but I pushed on. Over the past week I've probably had about 10 bowls of this stuff to give it a chance. Well, today I couldn't do it anymore. First, it burns really hot if you're an aggressive smoker and I can see how someone might burn out a pipe with this stuff (sugars & PG? IDK). Second, it can gunk up your bowl and draught hole with a sticky residue. Lastly, and maybe it's just me, but I got major sinus migraine 2x this weekend after smoking this stuff, reminded me of first bad cigar I had years ago. Anyway, it's not bad, but it's not great for me either (threw it away, I don't want anymore headaches from this stuff, kinda takes away from the whole pipe smoking experience). I can only think that it's been a top seller for years because of it being OTC at drug stores for so long. On the plus side, if you're looking to build up cake quickly, this stuff will definitely do it.
Favorite Products