 Saksit S.
Badges


Reviews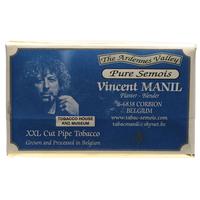 Tabac De La Semois - La Volute 3.5oz
Great pipe tobacco for Habanos fan !!
Though many suggests that if you are Burley fan then you're going to love Semoi. This could be true somehow but personally I'm not a Burley fan even though I'm tried to adapt it lately. Be a Habanos Aficionado for years. This Tabac Mani is mostly like Habanos. You got a lot of floral scent like usual HDM. A dash of honey note like usual Diplomaticos/Montecristo. Light tabac taste like all Habanos left after each puff(Though never stay on palete as long as Habanos). Some sharpness smoke texture but no any harshness. Never bitter or acid. Oh I'm forgot to tell you that i pick a nutty/cashew as well. This stuff is yummy & delicious. Pack it tightly. Sip it slowly. No fear upon relight due this cut is overall thick. As long as you gently draw the light into your bowl. I'm smoking this one after light breakfast. To me this one going to pair really well with strong red wine such Amarone or any Cab Sau you like. I'm not prefer red wine in the morning. But late meal I'll do. This going to be one of my favorite pipe tobacco so far.
Favorite Products