 Reviews
Peter Heinrichs - Curly Block 275g
bad
Nothing special. In the beginning a few sweet citrusy aromas underlayed with some breadish undertones. The aroma gets very monoton after the half of the bowl. Just sweet rye bread aroma. No fruits or citrus detectable anymore. Get´s hot very quick of the sugar casing. Tends to bite.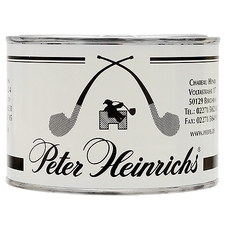 Peter Heinrichs - Golden Sliced 100g
good
"There are certain delicious sensations that are no less intense for being vague." - Charles Baudelaire This tobacco is fresh and enticing right from the tin, falling to short, chunky "ribbons" as the flakes are handled. It packs and lights OK and, once it is lit, I find it takes but little attention to keep it lit. It makes enough smoke, and it is "strong enough", within the context of its profile. IMO, it is best smoked in still air, to the point of smoking it indoors, if you can. Anyway, I do NOT recommend doing chores with a pipe full hanging from your jaw. I will even go out on a limb and say it might be best in a narrow "sipping" stack that is dedicated to it. What is really good here may be ephemeral, but it is also exceptional, if not unique, mild, rather nutty Virginia tobacco with a delicate topping that need not offend even the most sensitive and inquisitive palate. This same VA does "muscle up" some over the course of a bowl, but in decidedly relative terms, and many probably never even notice this effect. Smoked down, the "smoky" part of its Va flavor concentrates, to the point where one might well miss the rancid fruit and an increasingly "acrid" quality that is - somehow - not only not offensive - at all - but it is part of what makes this blend special, IMO. And, oddly, the delicious, enduring aftertaste gradually works its way back to Va sweet. All in all, despite my prolix intonements, I am pretty much at a loss for words here, like trying to describe dejas vu (or type it without proper script options...). Just, if you're willing to make the effort, this can delight, reward and even satisfy in a way that is not only different but better than other "light" tobaccos.
Peter Heinrichs - Dark Strong Flake 100g
Bad
The Virginias are barely sweet with a touch of citrus. There's an earth note that is sublimated by the grass and hay. The nic-hit is extremely mild. Burns at a moderate pace with no bite or harshness, little moisture in the bowl, and consistently dull flavor. Needs an average number of relights. The after taste is hardly noticeable.
Favorite Products
Currently there are no favorite products