 Reviews
Cornell & Diehl - Eight State Burley 2oz
Love in a can
I am primarily a burley smoker. Prince Albert is my everyday blend. Someone graciously sent me two cans of this. For a long time I wasn't a C&D fan at all, but Pegasus and After Hours flake changed that for me. If an online friend hadn't sent this to me I would have never tried it. I LOVE this blend, I would have a pipe in my mouth all day with this tobacco in the bowl. I'm a "codger" pipe smoker meaning I'm not a master of tastes or nuances. I can't pick apart the tobaccos when puffin'. All I know is this tobacco is tasty, burns great, no tongue bite and the room note is comforting and relaxing. I'm an ex cigarette smoker, I quit over ten years ago so I know about nicotine levels and hits. This tobacco smokes nice and slow, the nicotine is there! Very relaxing and sedative. For you guys that are sensitive to nicotine, my advice would be to smoke a small bowl first. I can't get enough of this tobacco!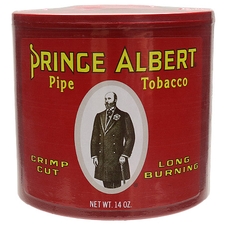 Prince Albert - Prince Albert 14oz
Prince Albert
This tobacco actually came out in 1907 not 1856. A German scientist invented a system on how to steam, press and crimp burley to help take the bite out of smoking tobacco. This is my everyday blend. Piedmont burley with a bit of Turkish. The tobaccos are or were the same exact blend as Camel cigarettes. Prince Albert has a topping which Camels don't. The casing is liquorice and molasses and the topping is cocoa. This is probably the best American classic otc style burley pipe tobacco. This was also given to our military along with Velvet and Edgeworth Ready Rubbed during WW2. This isn't Wessex burley slice, but it's a perfect pipe tobacco for the morning pipe through the afternoon. I usually smoke a strong blend after supper like Gawith Hoggarth flakes, but during the day it's PA. The aroma/room note is very nostalgic, think "Poppop" or an old diner from the 1970s. It has that typical old fashioned "is some one smoking a pipe' smell.
Sutliff - Model Match
Sutliffs Model pipe tobacco
I never smoked the original but if it tasted and smelled like this, then I don't know why HOW went out of business! This stuff is delicious. It tastes good and the room note is classic pipes. It does come a little moist. I dried it for half an hour and it was ready to go. Good nicotine hit. I gave it 4 stars because it does have the tendency to bite if pushed.
Favorite Products
Currently there are no favorite products