 Victor P.
Badges











Reviews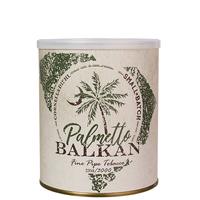 Cornell & Diehl - Palmetto Balkan 8oz
A Balkan Blend reminiscent of long gone mild English blends
The tin note on this reminded me of english blends such as Quiet Nights or And So To Bed, but much sweeter. One I lit up a bowl, the first thing I noticed was the red wine and smokey sweetness that envelops your entire mouth. That sweet and smokey flavor instantly reminded me of some of my favorite blends, Frog Morton, Vintage Syrian, Northwoods, Shepherd's Pie... However, unlike Frog or those other blends, this sweetness is not BBQ sauce, or Vanilla, it's a more generic sweetness. This blend really shines when you're sipping it at low temperatures. At a higher temperature or on a relight it will get much harsher and spicier and the sweetness gets violently thrown in the back seat. While smoking it at low temps, the mouthfeel is silky, and the different notes dance with each other on each draw. On a retro, you'll get some intense spiciness from the orientals present. This is the first small batch blend I've had that can scratch the itch that blends like FM, NW and SP can scratch, so I very much welcome this offering from C&D especially with the spicy twist they put on it.
Favorite Products